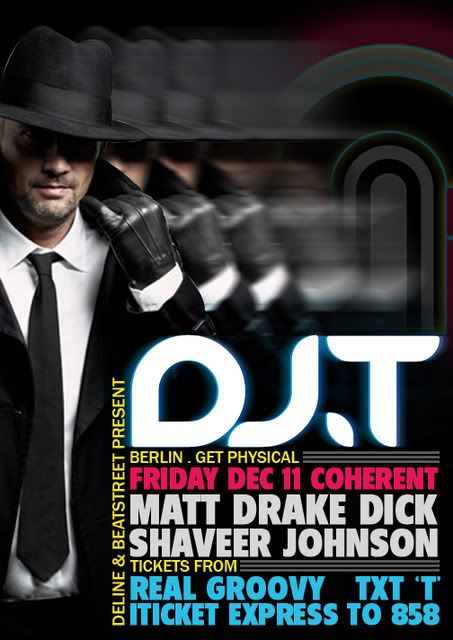 House and Techno A List icon "DJ T" arrives for an intimate show under his album tour, thanks to a one off Deline and Beatstreet brand collaboration!
" DJ T "
GET PHYSICAL / BERLIN
THE INNER JUKEBOX WORLD TOUR
Catch a man who years ago was dubbed the man who writes the future of our scene, and today carries his "legend" status in the new era of electronic music.
DJ T is today's electronic music pioneer. Many know him for creating one of the top best selling labels in electronic music, #1 on beatport, – Get Physical.
Whilst his other accomplishments include rocket launching the "Monza" club brand, a taste making studio album "Boogie Playground", the creator of Germany's uber hot "Groove Magazine", and of course spearheading artists, ideas, and genres in our scene. 2009 has DJ T burning stages around the world thanks to recent stunning studio album "The Inner Jukebox"
And the fun times are surely ahead, given the album's rave reviews and 3 Beatport top 5 placements, all whilst DJ T's worldwide tour has already been caught by over millions of people. It's a killer record in sexy, sweaty, and stunning house and techno.
Special Guest:
Dick Johnson
Support:
Matt Drake, Shaveer
DJ T has performed to tens of thousands at Rhythm and Vines and a packed out Ink and Coherent, so do not miss out. This event is Limited Capacity!
This amazing DJ is joined by a party in NZ with "Inner Jukebox" support DJs theme. A very special ride through their "inner jukeboxes" – music that on a personal level highly inspires and uniquely excites them. It's due for the full party treatment, and it's happening on this special occasion.
Tickets:
Door sales or Real Groovy, DMC, iTicket Express, or text "T" to 858.