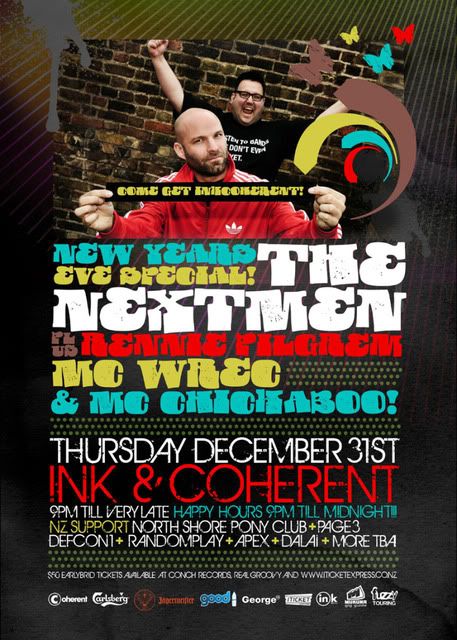 Staying in Auckland for the holiday period ?
Up for a large New Years Eve but no plans ?
Well we have the answer, it it's located here at INK & COHERENT…
That's right, we've gathered a collection of top international & local acts for your NYE party-time pleasure, including…
-The NEXTMEN (UK) & MC WREC (UK)
-RENNIE PILGREM (UK) & MC CHICKABOO (UK)
-NORTH SHORE PONY CLUB
-DEFCON 1
-PAGE 3
-RANDOMPLAY
-APEX
-DALAI
…with More T.B.A.
——————————————————————–
TICKET PRICES..?
There are limited earlybird tickets available for $40 – available from www.iticketexpress.co.nz , Conch Records & Real Groovy.
After earlybird tickets run out, you'll still only be parting with $50, from the very same outlets mentioned above.
——————————————————————–
ARTIST PROFILES…
The NEXT MEN (UK)
Cambridge is mainly known for its famous university, an inordinate amount of cyclists, a terrible football team, a river made for punting, a folk festival and being the home of Stephen Hawking, Clive James and Jeffrey Archer. It is not, one must admit, the first place one would look for producers of dancefloor-hardened beats. It is nevertheless, the city that gave birth to The Nextmen, also known as Brad Baloo and Dom Search. You may have heard of The Nextmen. In fact, unless you've been captive in Guantanamo Bay for the most of the Noughties, we'd wager you'd definitely heard of them and more than likely witnessed them at one of their many festival-stopping summer performances or heard their incendiary mixtapes on the neighbourhood ghetto blaster. Dom (real name: Dominic Betmead) and Brad (real name: Brad Ellis) joined forces when Brad blagged a remix for London Posse and realised he didn't have any kit with which to do it. In stepped Dom with his Roland S10 and not much else. "The track was called Style," chips in Dom, "But it put us on the map. Everybody loved it. Radio 1 got hold of it." "It was 75 bpm and really pedestrian," deadpans Brad. "Fucking terrible." Terrible or not, London Posse's Style had something about it, not least the MCing skills of the posse's Rodney P, with whom The Nextmen have subsequently enjoyed a long working relationship. In 2000, The Nextmen released their debut album Amongst The Madness on the revered 75 Ark imprint. Originally intended to be a Mo' Wax-style instrumentals album, their label began sending the beats out to rappers in the States and before they knew it, The Nextmen were hip hop producers, working with Public Enemy, Blackalicious, The Pharcyde and Morcheeba. Get Over It, 2003's sophomore album for Scenario, confirmed their position as one of the UK's brightest beatmakers, although now the boys regret going so far down that road. "Looking back on it, it perhaps wasn't the best idea to make those hip hop albums…" reflects Brad. It's not that they don't love hip hop, simply that it placed them in a neat, but uncomfortable, box. "As a DJ it's always been my favourite club music.
We always played bits of soul, disco and funk stuff but we were 70-80% hip hop. It was nice at that point; there were lots of interesting records coming out. When those records that people were still playing were ten years old, like Pete Rock and CL Smooth, I thought, 'God this is just so stagnant'." The changes in Nextmen direction – if they could even be described as such – grew out of their DJ sets, as they found the space to integrate the outer reaches of their record collections. It was an organic change, but one that was driven by their outlook: "As a clubber, I wanna go out and hear a varied style of music," says Dom "I don't want to hear one kind of music all night." This shift in approach found an echo in the studio, too. Newly energised by their live work, songs rather than grooves began to form in their heads; fruitful collaborations with Sway, Fat Freddy's Drop vocalist Dallas, Zarif Davidson, Alice Russell, Chicago's own Kidz In The Hall, Jamaican legend Niney The Observer and LSK from Faithless were proof that new album This Was Supposed To Be The Future would be a step away from their previous releases. "The new album has been more influenced by our eclectic DJ sets, because it goes right across the board," explains Dom. "There's some reggae on there, some dancehall, some soul, and a couple of hip hop tracks. If you look at our DJ sets that's exactly what we play."The catalyst for the new album was a reggae compilation Blunted In The Backroom, which they completed for new label Antidote last year. It was a headlong plunge into the depths of the Trojan catalogue, but re-wired by the Nextmen for the now. It was a resounding success not least because the two tracks made exclusively for the album, Blood Fire (featuring Dynamite MC) and Piece Of The Pie (with Demolition Man) became the starting point for This Was Supposed To Be The Future.
The normally sedentary pair in the studio ("We can be lazy bastards" quips Dom) had taken nine years to produce two albums, although moreover this has been the result of their move towards world domination, constantly rubber banding from London around the globe throughout Europe, Australia, Asia-pacific and beyond, as the first choice go-to DJs for every walk of hype-hot party and festival (think: a sunken indoor swimming pool in Elizabeth Taylor's private villa in Cannes, a deep dark bunker in Moscow, a mountain-top ski jump in Val D'Isere, a heaving Sydney harbour-side arena, a much loved local pit stop in Shanghai, a heaving New Years natural amphitheatre in Perth, their favourite beats and meats BBQ with Friends & Family in Manchester and you'll understand). The pair however realised their touring schedules hadn't paused for some time, so completed the bulk of the new album in four months, working with the uncharacteristic fervour of a pair of Brill Building song mavens, though it should be noted that, unusually for most DJ/producer duos, Brad and Dom are both accomplished musicians, the former a pianist while Dom plays guitar. They appear suitably relaxed and inspired by the experience. "The situation around us for this album has been amazing," enthuses Dom. By comparison, explains Brad, "the situation around us for the first two albums was fucking disastrous. Nobody did anything right. Including us. It's a testament to the quality of the records that we've managed to last this long and make a living from it."
This electric jolt to the creative glands has manifested itself in all areas of their careers and, as they prepare for the release of the new set, a new live approach is taking shape, bringing in vocalists and musicians but still retaining the classic elements that make their DJ sets such energetic affairs. "Nextmen is these two guys behind four decks and that's what people expect and I think we should try and keep that in," avers Dom. There's even talk of performing some of the new songs in an 'unplugged' environment. "It's amazing how well tracks translate like that," he continues. "If I sit with Zarif and do This Is Supposed to Be The Future, which I wrote on the guitar, it's brilliant. They're naturally acoustic songs as well as the way they appear on the album. The writing often starts with a guitar or keys and a vocalist."
This Was Supposed To Be The Future has clearly been a cleansing process of the Nextmen, the studio equivalent of a spot of Botox and a nip and tuck behind the lugholes. "We've started on the fourth album already," chuckles Dom, painfully aware of the four-year gap since the last. "There's loads of stuff going on and definitely some of these artists will be on it again, because it's been such a successful working relationship." Suitably chastised by their dismal productivity levels, Brad announces his Chairman Mao-style plans: "I think we should do at least another five albums in five years. We've got to step the studio workload up!"
Brad drops his voices slightly and adds, more seriously, "What we'd like from this album is for it to shift perceptions of the Nextmen." "It would be really nice to be seen as producers who make music rather than a hip hop act," adds Dom. "That's what we are and what we've always done, but we've just made a couple of hip hop records." The pair sits back contentedly and contemplate the next five albums. Then Brad adds: "Anyone for a cuppa?"
The NextMen have just released a new record – Join The Dots, which has recieved huge aclaim from industry and punter alike, as the following review atests to..
Join The Dots – The Nextmen
This is the album of the year! Essential! Blazing!
I've always been a fan of The Nextmen, from the original hip hop of their first album to the more lyrical feel of their last LP 'This Was Supposed To Be The Future'. But truth be told, I bought this album because of their DJ sets. I just saw them – along with 8000 others – turn a sea of people into a frenzy with their command of music at The Big Chill, and this album is a testament to that vibe. If you want to feel good, this album does the trick. Ms Dynamite, that super tall bloke Groove Armada, Dynamite MC, Jim Screech, Betty Steeles – all give brilliant performances, and the song production and overall sound is massive. I haven't been able to stop playing this CD since I bought it. You can't go wrong with this album. The best buy of the summer for sure!
http://www.myspace.com/thenextmen & www.thenextmen.com
——————————————————————–
RENNIE PILGREM (UK)
Rennie started life playing tenor saxophone and sitting with his Father's various bands around Southern England. Later he formed various funk bands playing sax and keyboards.. After making rudimentary House music on the wrong kind of drum machines with soon to be Rhythm Section members Ellis Dee, Richard Thake and Nick 'Newton Scott, they had interest from (amongst others) the new British house label Guerrilla. Preferring to release their own material they formed Rhythm Section Recordings and became part of the wave of breakbeat house that went on to become known as Hardcore in the early '90's.
Their third release 'Comin' On Strong' was so huge it stayed in the Dance Charts for 2 years. Rhythm Section played at pretty much every main party between '90-92' on the same bill as The Prodigy, Moby, Altern 8, Shades Of Rhythm and Bizzare Inc.
In 1993 Rennie founded Thursday Club Recordings (TCR) as a medium for putting out his own material. Recording now as 'Thursday Club' he had a big tune with 'Thursday Theme' which was chased by Virgin.
His Next release 'A Place Called Acid' (1995) was one of the biggest breakbeat tunes around and resulted in him being offered gigs around the World
1996 set up legendary London night 'Friction' with Adam Freeland, Tayo and Ian Williams. He also coined the term 'Nu Skool' along with his fellow Friction partners as a way of describing their music.
He's released records on Whole9yards, City Of Angels, Chrysalis/EMI, Mob and China Records to name but a few. He's collaborated with many top producers including legend Arthur Baker,BLIM (Breakpoll Best Single '2Freaks')
He continues to DJ all over the world and wow audiences with his dancefloor-friendly funk-infused breaks sets. He has held residencies in Rome and London (at his own HUM night and now STIR). He is also part of the team responsible for the 'Breaksday' concept – which has had parties in Miami, London and The Glade Festival.
He has been voted 'Most Valuable/Influential Person' at The International Breaks Awards four years running and also also picked up awards for Best Single (2Freaks) and Best Remix for the huge Emit/Collect by DJ Zero
2004 Rennie released a mix album on Perfecto 'Perfecto Breaks' which was the first mix album ever to utilise Ableton Live.
Rennie was recently asked to do another track for Sony's next Wipeout Pure PSP game.
He has written music for a couple of commercials and scored the Theme Music for The Football Factory.
His label TCR currently has the biggest Catalogue of Breakbeat tracks in the World and last year passed its 100th 12" Release.
2005 Rennie formed 'Rennie Pilgrem & The TCR Allstars as a Live project. 15 gigs later including Glastonbury and The Glade Festival they have been included amongst the '20 Best Live acts to see' in IDJ Magazine.
Amongst all this Rennie somehow finds the time to write reviews for IDJ Magazine (coincidence) and Big Shot Magazine in the USA.
2007 Rennie has a weekly Breaks Show on Galaxy Digital.
He is currently putting the finishing touches to his 3rd Studio Album which will feature some Live Recordings made with members of The TCR Allstars.
He is part of Stir which takes over renowned night club Heaven in London as an 'indoor Glade' concept in which Breaks rubs shoulders with Psy-Trance and other genres of dance music
He has just released 'Live At The Cavern' a Mix album recorded Live in Exeter at the UK's longest running Breaks night. Featuring Rennie on Live Keyboards and mixing this is the first of its kind and has received huge critical acclaim. He is about to release a new single on TCR 'Dutty Work / Clobber' which looks set to achieve the same success as Eraser did earlier this year – already earning 'Single of the Month' titles in both DJ mag and iDJ magazine and receiving plays from Pete Tongs show on Radio 1 amongst many others.
2008 – Rennie released his third artist album entitled 'Skin' via a unique texting service through phones! Already selling in excess of 20 000 it's Rennies biggest selling album to date and which Annie Nightingale is calling 'Breathtaking'.
2008/09 – Rennie's label TCR is about to start celebrations in honour of its 15th Birthday! Encompassing a world tour, brand new remixes of classic tunes and free monster mixes by Rennie himself it will be a busy year for him!
Rennie Pilgrem is bald.
http://www.myspace.com/renniepilgrem
——————————————————————–
MC WREC (UK)
Jon Bailey aka MC Wrec is regarded as one of Britains most exciting artists and music entrepreneurs. Known as one of the hardest workers on the circuit, this versatile young grafter shot to fame in recent years after becoming the front man to the multi award winning live act London Elektricity and his work with accliamed eclectic acts The Nextmen, Stanton Warriors and Timo Maas.
The Surrey born vocalist who spent time growing up in Berlin, London, Southampton and Brighton, discovered his love for music at a very young age. Listing Michael Jackson, Cypress Hill, Nirvana, Alex Reece, LSK and Roots Manuva as influences, he first graced the mic in 1995 at a warehouse party in South Croydon and came up through the traditional ranks of Londons sound-system and pirate radio culture. He earnt his stripes chatting over early breakbeats, jungle, house, garage, hip hop and reggae music, before relocating to Southampton in 1998, where he gained a marketing degree, promoted shows, founded the Distortion Crew and his former hip hop group The Pickpockets and became Addict Clothing's Music PR manager.
It was during this time, Wrec began cutting his teeth working and touring with the likes of DJ Red, Rodney P and DJ First Rate, spreading his wings both nationally and internationally on the mic. From 2003 – Dec 2005 (when the band stopped touring), Wrec fronted the mighty London Elektricity live band, recording two live LP's and DVD's, featuring on the 2005 studio album, rocking shows from Auckland to Istanbul and picking up BBC 1Xtra and Knowledge Magazine awards with the band for 'Best live Act'.
Now Brighton based, Wrec is resident MC to prestigious records labels Hospital Records and Critical Recordings, plus infamous nights including Fabric Live, Matter @ O2, Hospitality and Friends & Family in London plus further residencies in Shanghai, Bristol, Berlin and Brighton. Now a regular live host and collaborator to top dance acts The Nextmen & Stanton Warriors he's toured across Europe, Russia, Australia, New Zealand, USA, Canada, Middle East, Brazil, Japan and China – working and touring with the likes of Snoop Dogg, Kanye West, Cypress Hill, Basement Jaxx, Soul II Soul, Manu Chao, The Prodigy, Calvin Harris, Cassius, ICE T, Beastie Boys, Black Eyed Peas, The Streets and DJ Yoda to name only a few.
Superb performances at the likes of Glastonbury, Good Vibrations (Australia), Jade Jaggers Jezabel @ Pacha Ibiza, Big Chill, Shepherds Bush Empire, Brixton Academy and The Reading Festival, have secured his place as one of the world's most entertaining and in-demand MCs.
Indeed Jam Music called Wrec 'The UK's finest multi genre MC', and this in all honestly still doesn't do his CV enough justice. This is after all an MC who has over time hosted sets for the likes of Skream, Don Letts, Afrika Bambaataa, Paul Oakenfold, Goldie, Roni Size and DJ EZ to name only a few. He also worked with the legendary German techno producer Timo Mass on a select number of live dates in 2007, including hosting a marathon 6 hour set at The End.
With releases on labels including Hospital, Fat City and Mums The Word plus countless mixtape appearances, he featured on London Elektricity 'Power Ballads' LP (2005) and Martin Brews single 'Drop The Beat' (2005). He also released his debut solo track 'The Great British Moan' on Mums The Word Records, proving to be a big hit online with over 65,000 listens on his myspace page, not to mention rotation on Radio 1, 1xtra and Kiss FM.
In addition to the above, he also runs a couple of companies with business partner Marc Sheinman. Firstly Mums The Word Management, looking after The Nextmen, Zarif, Shy FX & Digital Soundboy, His Girl Friday & Truth.
To work alongside the management company Jon and Marc also launched their own label in 2006 Mums The Word Records Ltd. The labels debut release in Oct 2006 was Part Time Heroes 'Realise EP' which gained global critical accailm, and other releases on the label include Wrec's very own 'Great British Moan' single, Shapeshifter's 'Soulstice' album and remixes from the likes of D-Bridge, The Upbeats, Nu:Tone and The Nextmen.
Wrec ran all of Addict Clothings worldwide music press, product placement, endorsements from 2001-2007, and regularly worked with the likes of DJ Cash Money, Fat Freddys Drop, James Zabiela and more. Indeed Jon was invited to host the Adicolor Collection press conference for Adidas in Berlin live on MTV, interviewing style, illustration and design icons including Cey Adams of Def Jam Records, Raymond Choy of Toy2R, Vice Magazine and Italian label Emilio Pucci.
He's also been invited to lecture on the music industry in Bulgaria, Germany, Slovenia, at various UK University's and recently hosted the MTV Media Awards after-party in London and the MTV party at The Cannes Film Festival 2006.
Difficult to pigeonhole, exciting to listen to, and with fingers in several tasty pies… you cant knock his drive or take his eyes off the prize.
'The UK's finest multi genre MC" Jam Music, Sydney Australia
"A rare example of how it possible to find fame in more than one musical genre, MC Wrec has been representing hip hop and drum and bass in equal measures for the last decade, with the list of artists he's appeared alongside reading like a who's who of underground music. This is one Wrec – that does not get nervous" Knowledge Magazine
http://www.myspace.com/mcwrec
——————————————————————–
MC CHICKABOO (UK)
Record Label: Soul2Soul
MC Chickaboo DJ and rapper from London, UK who started out in Birmingham in 1992 working with GE Real.
Her vocal skills are renowned among the worlds elite DJs, and she describes her style as Drum'n'Bass with plenty o' that Booty Bass!
She has worked with some of the world's best Drum'n'Bass DJs: DJ Dazee, DJ Craze, DJ Rap, Jumping Jack Frost, DJ Storm, DJ Bailey, Goldie and the legendary Afrika Bambaata to name only a few!
MC Chickaboo has written, performed and recorded vocals for many groundbreaking producers: Timo Maas, Rennie Pilgrem, DJ Friendly, General Midi, Suda (Faithless), Bitches Brew, Jeans Jaques Smoothie, Stabilizer, Superstyle Deluxe and BLIM.
MC Chickaboo's Message: It's my worldwide mission to entertain as many women as possible. I'm all for da girls.
www.myspace.com/mcchickaboo